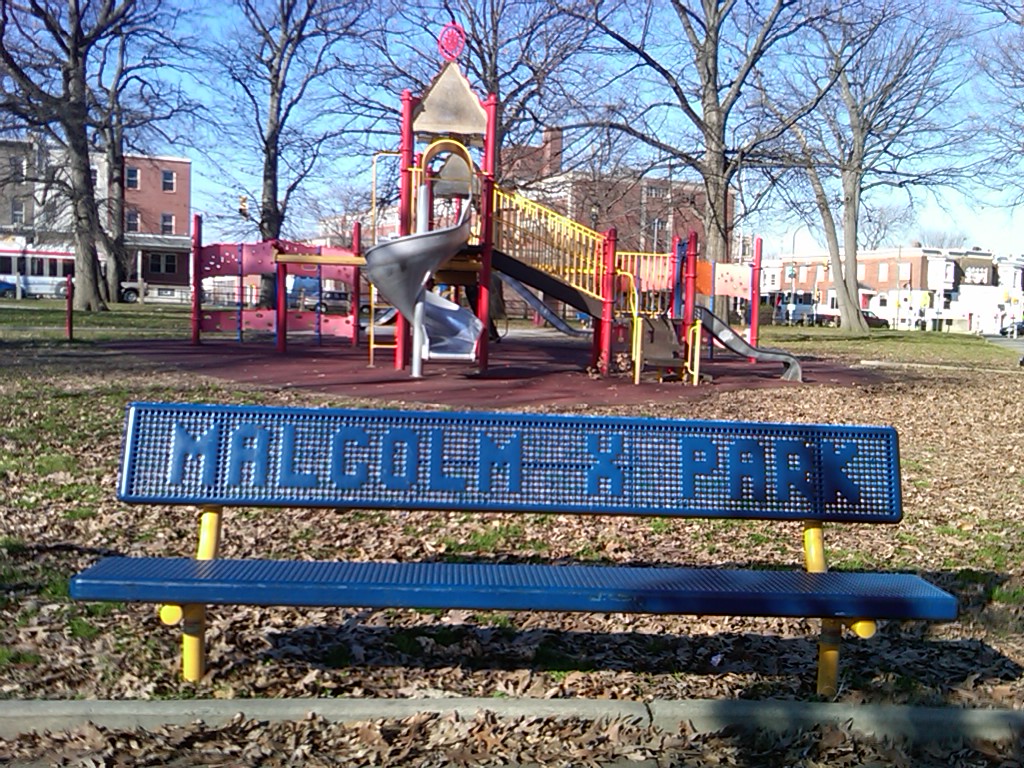 New signage and seating to revitalize an anchor park on a West Philadelphia commercial corridor.
Here's a snippet from an article written for University City Review:
Nestled on 52nd between Pine and Larchwood Streets, Malcolm X Park, represents one of West Philly's premier "commons."

"Malcolm X Park is such an epicenter of life in the community," said developer Ryan Spak of the Spak Group on Friday, August 28th from the Satellite Cafe. "There are Jazz performances on Thursday nights, there's Theater X in the park. I don't think I've been there a single Saturday in the last six weeks when there wasn't a DJ," Spak said with a smile.

Naturally, Spak, who is developing projects like the Larchwood Flats, at 52nd and Larchwood Streets, has a vested interest in the 52nd Street corridor. At the same time, Spak's taken that interest to a proactive level by attending Friends of Malcolm X Park meetings.

And it was at those meetings "it came to my attention that the park was in desperate need of new signage and benches. So, in a joint effort between the Friends of Malcolm X Park – Greg Cojulun – and Akeem Dixon of the Enterprise Center…we applied for a grant with the Fairmount Park Conservancy for new signage and at least one bench," Spak explained, noting his wife Jessica, who writes grants for Drexel University, "helped me submit the proposal."

Notably, Dixon's support of the park also speaks volumes to the community's commitment to rebuilding the 52nd Street Corridor.

As 52nd Street's corridor manager, "Akeem's work runs from Arch to Spruce Streets," Spak said, explaining, "It does not to go to Pine where the park starts. But the park is such an integral part of the neighborhood that he lent his support."

In turn, Dixon shared his appreciations for Spak's involvement.

"It's great to see one of the anchors of the 52nd Street Commercial Corridor getting new benches and signage," Dixon explained. "This accomplishment illustrates the commitment and collaboration it takes between community residents and city agencies to improve neighborhood assets. The Friends of Malcolm X Park," Dixon continued, "do an excellent job of not only maintaining the park but also working tirelessly to obtain resources to improve what many feel is the centerpiece of the corridor as it serves as a melting pot for both new and established residents."

A new bench and signage might not seem like much to some. But as a community epicenter, the park needs the signage to "post flyers for events," Spak said, explaining, the current wood signage was so "distressed and falling apart, the Friends of Malcolm X Park couldn't post a schedule of events anywhere," Spak added.